Synopsis: Gil Da Ran feels more confused when Kyung Joon said he will not get in the way of her relationship with Yoon Jae but will continue to be by her side until he comes back. In order to ease the burden of Gil Da Ran, Kyung Joon consented to finding his dad.

Ma Ri took it upon herself to spy on people who might know Kyung Joon's dad. She and Gil Choong Sik were stalking a professor who was once a teacher of Kyung Joon's mom when they saw a man talk to the professor. It turned out to be Yoon Jae's dad who was also searching for Ma Ri to know more about Kyung Joon's whereabouts.
Kyung Joon and Da Ran went to meet Yoon Jae's parents with the Yoon Jae's mom going to extra lengths to hide the secret of Kyung Joon's parentage. While having dinner, Yoon Jae's mom criticized Da Ran's style and clothing and told her to get better clothes and fancier car as they have a reputation to uphold. Kyung Joon deflected the criticism. He told them to give them a credit card if they really want to do some shopping. After that, Kyung Joon took Da Ran shopping.
When they went home, Da Ran still looked sad. To cheer her up, Kyung Joon sang her the Pororo theme song. Da Ran felt happy because of Kyung Joon's efforts but felt even more confused. She engages herself in some funny Joseon Dynasty soliloquy.
The next day, Kyung Joon and Da Ran went to the museum where the professor who knew Kyung Joon's mom was doing an exhibit. They were unable to meet him alone because Yoon Jae's mom showed up. While Kyung Joon was talking to her, Da Ran talked to the professor alone. He told her that she should thank him because it was because of him that she and Yoon Jae met and fell in love. Contrary to what Se Young said, Yoon Jae was in a hurry to leave the wedding the first time they met because he was supposed to meet the professor.
Now that there's proof of Yoon Jae's love for her, Da Ran feels guilty. She goes to Se Young to confirm this. Meanwhile, Kyung Joon collected the sunflowers she was admiring earlier and intended to surprise her with it. Da Ran was touched but was loathe to admit it because it made her feel guilty.
Da Ran had to tell Kyung Joon that they were mistaken about Yoon Jae's relationship with Se Young. Kyung Joon told Da Ran he is happy that everything is clear now with Yoon Jae's feelings for Da Ran.
Fashion Highlights:
Gil Da Ran had the most outfit changes this episode mainly because Kyung Joon took her shopping. This is one of my favorites with its 60's silhouette. If only the skirts were fuller but perhaps with a petticoat, the same 60's full skirt can be achieved.
The upper portion of the dress was far from flattering. If only Da Ran doesn't slouch too much. Not my favorite but the color is definitely cute.
Get A Similar Dress:


Midnight Fizz Dress, $52.99, ModCloth
For a night out. Pair it up with some strappy platforms or stilettos and you are good to go.
The outfit they dubbed as the vacation outfit. I really think it's a cute colorful romper, but then I always gravitate towards colorful stuff. I love the periwinkle backdrop and splashes of purple, pink and green. The next time you go on a summer vacation, bring a romper.
This style suited Da Ran's figure and features so well. Ruby is a fitting colorful for her. After all the sickly-looking outfits she has been donning in the past few episodes, this is definitely a breath of fresh air.
Get a similar-looking dress: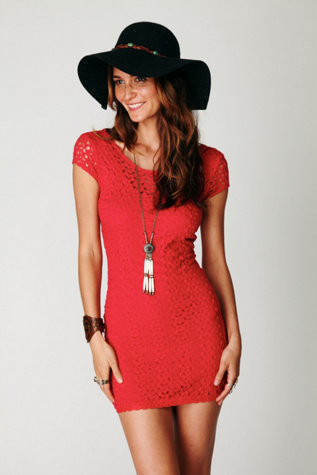 Free People Cap Sleeve Gypsy Lace Dress, $128.00
More brights! Every girl needs to own white tennis-style skirts to pair up with pretty tops like the colorful button-down top Da Ran wore.
Take a cue from Jang Ma Ri and add straw hats or faux wicker hats into your ensemble. They're best paired with lacey garments.
I love Kyung Joon/Yoon Jae in dark button down tops but he actually looks better in pastels –especially when paired with white pants. It gave him a fresher and cleaner aura.
I don't usually agree with Ma Ri's color combinations. I love her teal dress but not the neon accessories she paired it up with. Could have been better with neon yellow instead of yellow green, don't you agree?
Get A Similar Dress:

Colored Glass Dress, $57.99, ModCloth